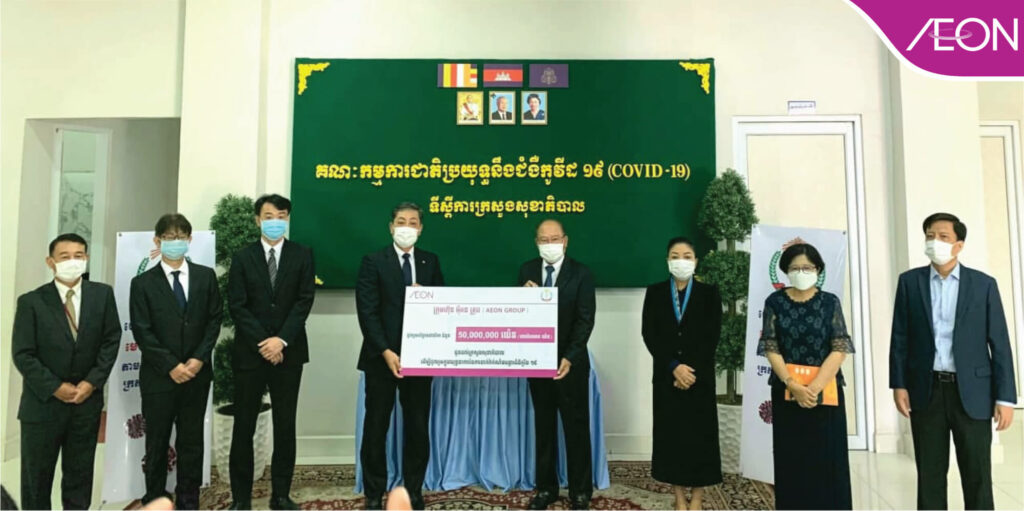 As part of its efforts to fight against the COVID-19 pandemic and to ensure "safety and security" for everyone in Cambodia, 4 AEON Group companies operating in Cambodia(AEON (CAMBODIA) CO., LTD., AEON MALL (CAMBODIA) CO., LTD., AEON SPECIALIZED BANK (CAMBODIA) PLC., and BRANCH OF AEON DELIGHT (VIETNAM) COMPANY LIMITED)have made a donation of 50 Million Yen (Approximately 454,545 USD) to support the Royal Government of Cambodia in its COVID-19 vaccination efforts.
AEON Japan has announced its donation in total 350 million Yen to support the Governments of Malaysia, Vietnam, Indonesia, Thailand, and Cambodia in ASEAN community in COVID-19 vaccination efforts.
In Cambodia, COVID-19 vaccination coverage is more leading than other ASEAN countries, but the spread of COVID-19 remains in an alarming situation. The donation of this funding is particularly aimed to facilitate COVID-19 vaccination campaign which plays a crucial role in disease control and economic recovery in Cambodia.
This donation is contributed by Japan AEON Group Companies, namely AEON Co., Ltd., AEON MALL Co., Ltd., AEON Financial Services Co., Ltd., AEON Delight Co., Ltd., and from AEON 1% Club Foundation.
Based on the AEON Basic Principles of "Pursuing peace, respecting humanity, and contributing to local communities, always with the customer's point of view as its core", AEON Group will continue to make collective efforts to end the COVID-19 pandemic in order to restore security and peace in the daily lives of local communities.
For your information
Number of Stores and Business Establishments in Each Country that Receive Donation
(As of the end of February 2021)



 AEON Delight Co., Ltd. has 14 offices in total, including 1 in Malaysia, 2 in Vietnam, 10 in Indonesia, and 1 in Cambodia.
GMS:General Merchandise Store
SM:Supermarket
DS:Discount Store