On 11th January 2022, AEON (CAMBODIA) CO.,LTD donated nearly 7, 000 USD from its own Yellow Receipt Campaign in 2021 to 24 local NGOs, such as Nature Save Cambodia​ (NSC), Passerelles Numeriques Cambodia​​ (PNC), Sipar, Mith Samlanh, Cambodia Students and Children Fund, Cambodia Childern Against Starvation and Violence (CCASVA), Sacrifice Families and Orphans Development Association (SFODA), Hope of Children, Pay It Forward​ Organization, Friend International, Douleurs Sans Frontier's Organization, Center for childern's Happiness (CCH)​​​, Future light Organization (FLO), Dream Girl Project (NPO), Cambodia Childern Fund (CCF), Donbosco Foundation of Cambodia, Transcltural psychosocial organization (TPO), IL Nodo international organization (ILNODO), Andong Center street to school, Sophia Univiersity asia center for research and human development, Oprhan disable youth and poor women training organization, Japan Heart​, Smile Cambodia, Cambodia International Education Support Foundation(CIESF).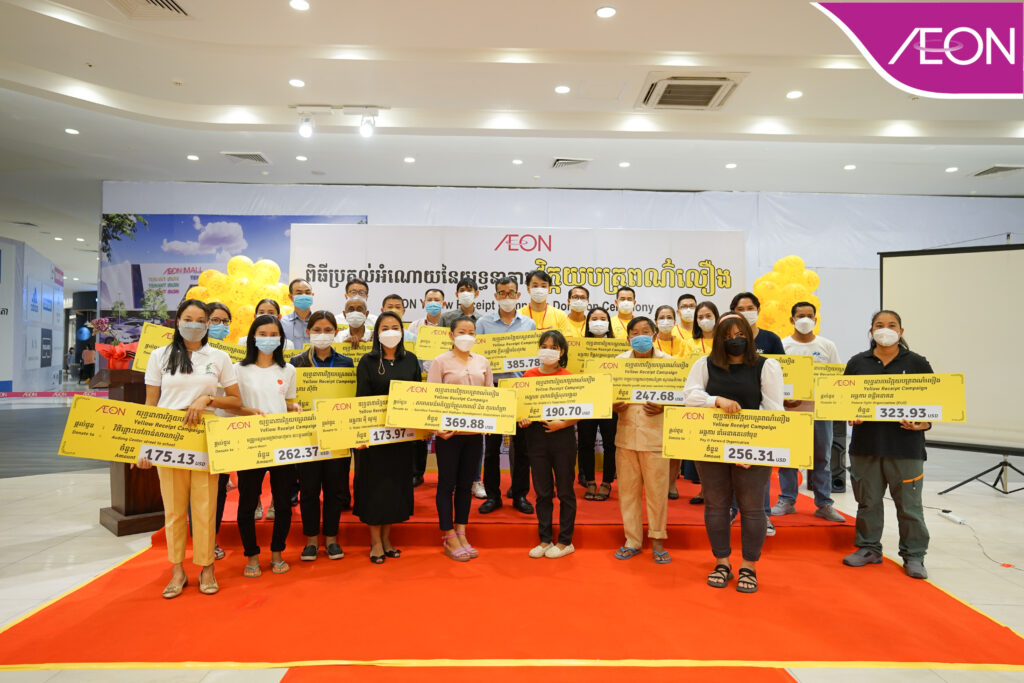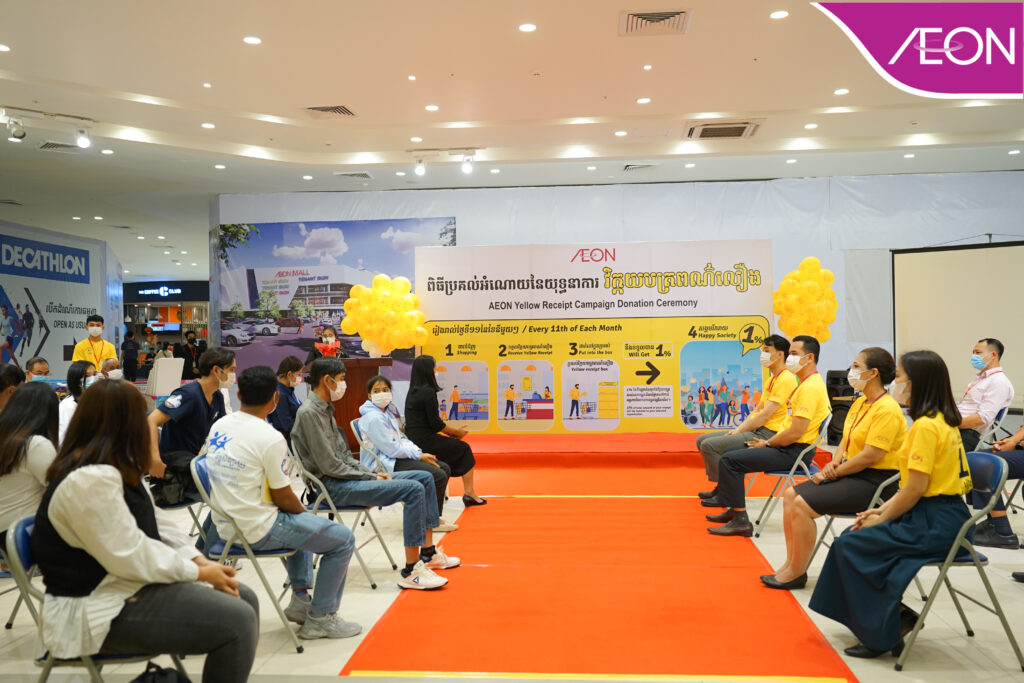 AEON Yellow Receipt Campaign happens on every 11th of each month. Customers who purchase at AEON Phnom Penh Store, AEON Sen Sok City store and AEON MaxValu Stores can put their receipt (Yellow One) in the Yellow Receipt box at each store where they can choose their preferred NGOs. AEON will donate 1% of total amount that customers purchase to local NGOs based on actual receipt received from each box.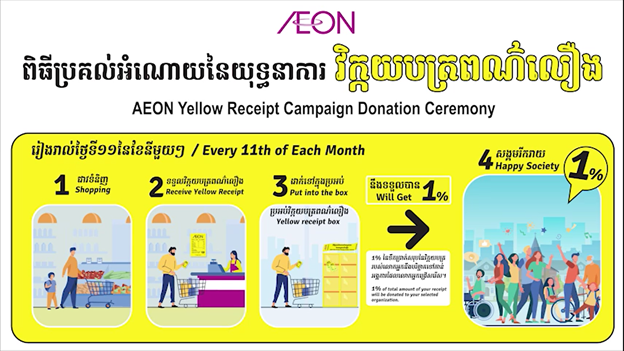 AEON Yellow Receipt Campaign aims to encourage customers to participate more in social events and promote the culture of sharing in society, said Mr. Seko Tsugutoshi, Managing Director of AEON Cambodia Co., Ltd. Mr. Seko also stated that this campaign first started in 2016 with 7 NGOs only, until now, there are dramatically increased to 24 NGOs that have participated and received donation from this campaign. Additionally, this campaign is aligned with AEON's principle that not only focus on its own business but also pays high attention in participating and minimizing social issues. Through this campaign, AEON (CAMBODIA) CO.,LTD will contribute more to deal with various social issues both in present and future while focusing on its business growth.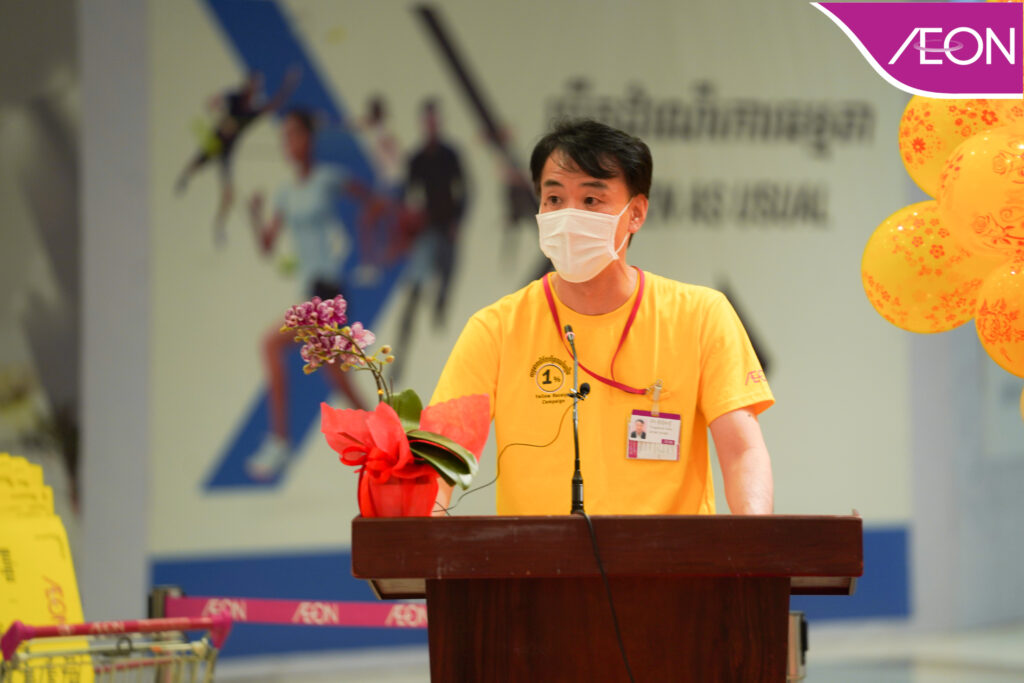 Friends International first joined with AEON Yellow Receipt Campaign 6 years ago, since the first initiative of this campaign, said Mr. Phoung Tola, a representative of Friends International. He also took this great opportunity to thanks to AEON Cambodia Co., Ltd for a strong support of Friends International as well as other social events that have play crucial role in business operation and success.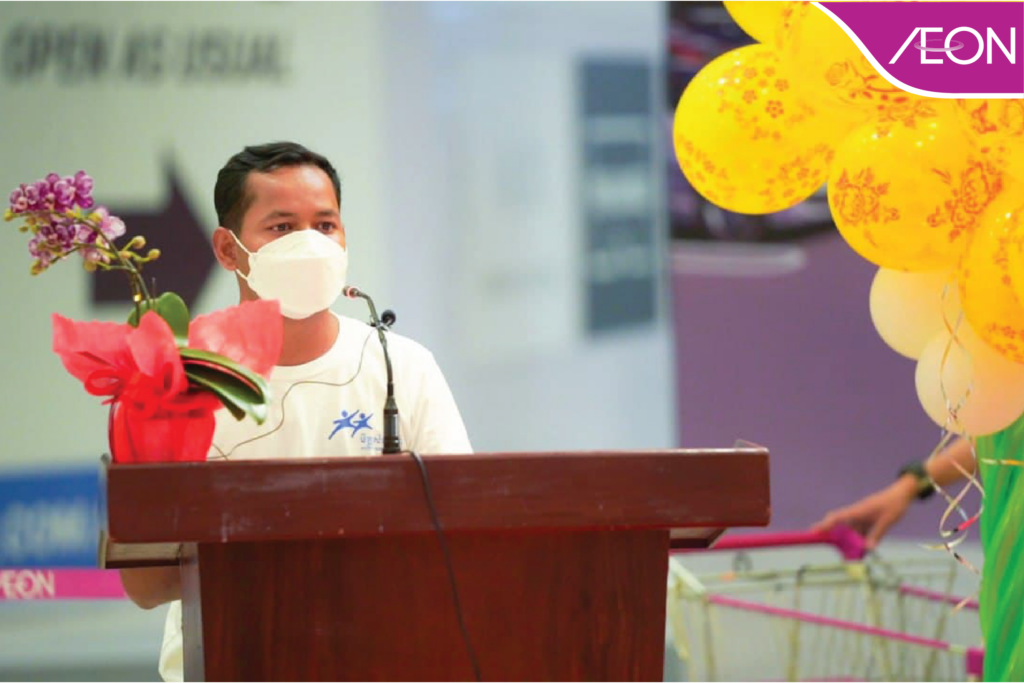 Support AEON Yellow Receipt Campaign for our community!