Celebrate 9th years anniversary together with AEON!
Thanks to our valued customers who have supported our AEON since its inception.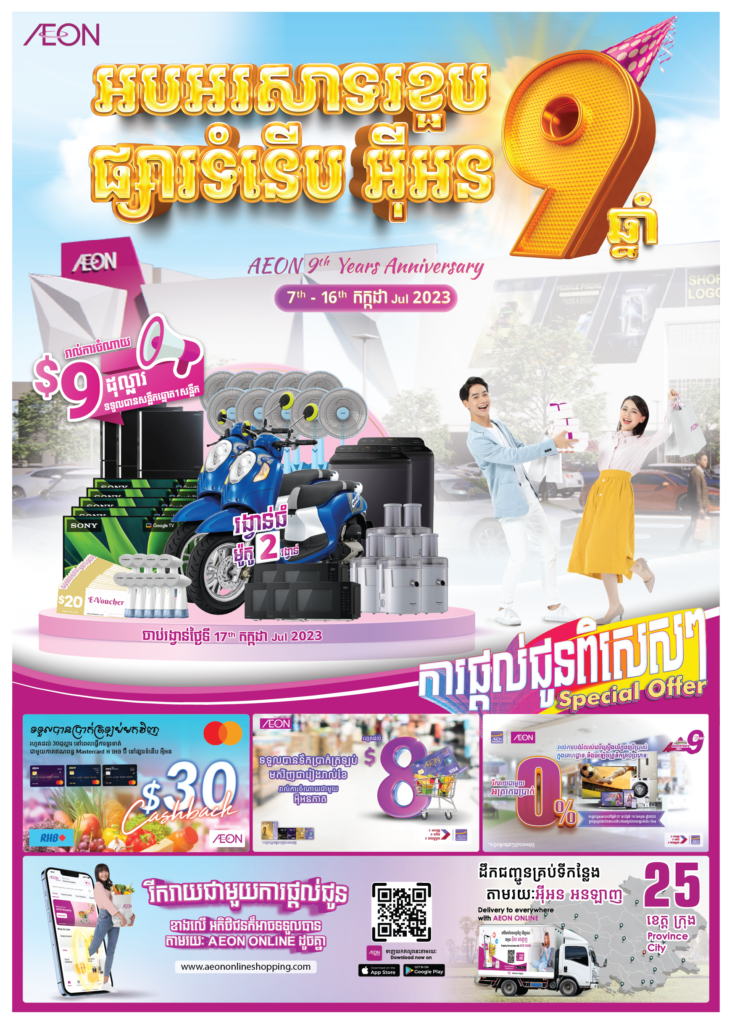 Special Offer enjoys discounts up to 50% off a wide range of quality items such as food, groceries, electronics, home appliances, men, women, children, and baby's apparel, and a wide range of accessories, including lucky draw chances to win more prizes.
On 7th – 16th July 2023: 9th Years Anniversary Lucky Draw Ticket
Terms and Conditions:
Every purchase from $9 and above per receipt, will receive a lucky draw ticket
No combine receipt
Rewards include:
1st Scoopy 2022 Blue Motorcycle x2
2nd Hitachi 2 Doors Refrigerators 344L x3
3rd 4K HDR Google TV 32″ x5
4th Panasonic Washing Machine 10kg x2
5th Panasonic Microwave Oven x5
6th Panasonic Juicer x5
7th Philips Handheld Garment Steamer x10
8th Hatari Slide Fan 16″ x5
9th AEON Online E-Voucher 20$ x15
The Lucky draw will take place on 17 July 2023 at 3pm AEON Mean Chey Store on the first floor​ or via the official Facebook pages AEON Retail Cambodia and AEON Online Cambodia.
In addition, customers can also receive many special offers from our partners, such as:
1. Get $ 8 cashback every month up to $200 from AEON Specialized Bank
Promotion Period: 1st May – 31st August 2023
Accumulate monthly spend $80 shall will receive $3 cashback
Accumulate monthly spend $200 shall will receive $8 cashback
The offer is for customers who makes payment using AEON Card or AEON Mobile scan to pay at AEON Cambodia Phnom Penh, Sen Sok City, Mean Chey & AEON MaxValu.
Cashback will be credited into principal cardholder account on the 7th of the following month ( Except the first month of promotion which cashback will be credited around 18th – 25th )
Location: AEON Cambodia PP,SS,MC, & AEON MaxValu Express, (Exclude AEON Online Shopping)
2. 0% interest rate for 9 months for all installments at AEON Mean Chey Store from 7th till 16th July 2023.
3. 0% interest rate installment for 6 months for AEON Phnom Penh Store and AEON Sen Sok City Store from 7th till 16th July 2023.
4. Cashback up to $30 for RHB debit card holders
Promotion Period: 7th July – 31st August 2023
Term & Conditions
Payment by RHB Lifestyle Debit Cards at any amount will receive 10% cashback and Limited amount of cashback is USD 5
Payment by RHB Platinum Debit Cards at any amount will receive 12% cashback and Limited amount of cashback is USD 12
Payment by RHB Premier Debit Cards at any amount will receive 15% cashback and Limited amount of cashback is USD 30
Remark: 1 customer get 1 time/month
Besides promotion and special offers, AEON Phnom Penh Store has renovated floor areas and imported some popular brands to provide more convenient shopping experiences and satisfy customers with new emotions of store's new design and decoration as below: AEON Private Brand Doublefocus, Brooks Brothers, OASIS, Paul and Shark, Angner, Ducati, Eminent, Lojel , Thule, Pacsafe, Romanson, Kennet Cole and Biti's Hunter.
Click the link below to see our promotion detail
Facebook Page: AEON Retail Cambodia
Instagram Page: aeon_retail_cambodia
Telegram Channel: AEON Retail Cambodia