See you on 7th April, 2023, for the upcoming Grand Opening AEON Mean Chey
 with many special offers!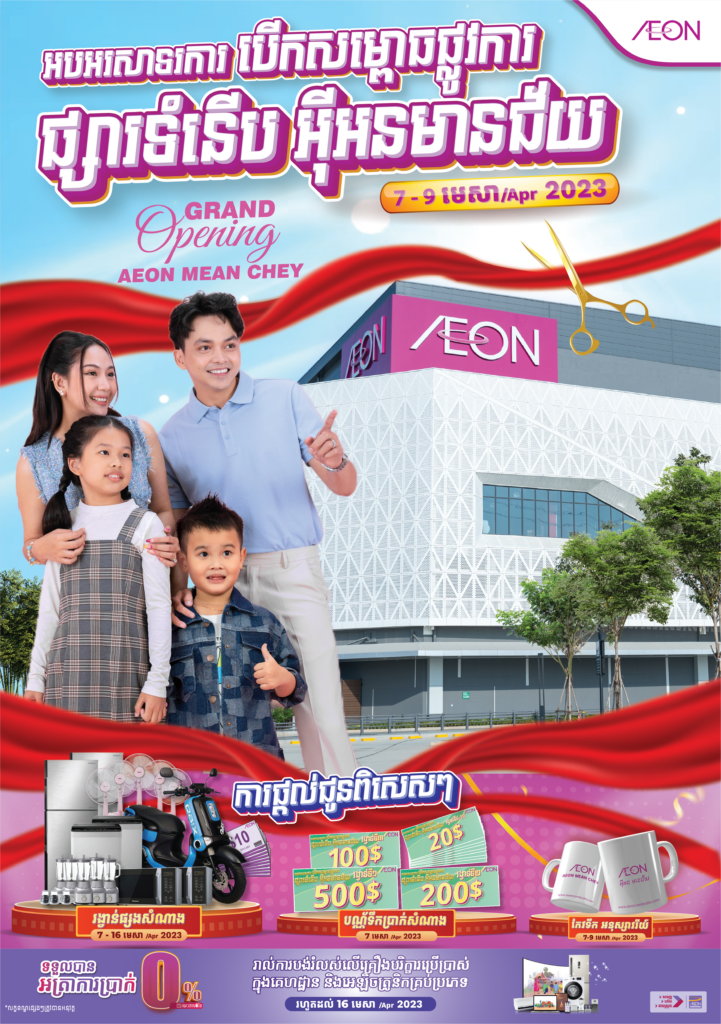 To celebrate Grand Opening which takes place on April 7, 2023, AEON Mean Chey Store has many offers with great discounts and other special offers on food, groceries, home appliance, and clothes for men, ladies, and kids at affordable prices.
Besides those, there are other special offers such as:
1. On 7th April 2023: Surprise Rewards up-to-$500 Gift Vouchers
Terms & Conditions
Every purchase from $33 and above per single receipt at AEON Mean Chey between 9 am to 10:30 am has a chance to get Gift Voucher up to 500$.
Available for 10 Customers
Write down your name and phone number on the receipt and put it in the lucky box at the customer service counter.
The draw will be announced on the same day at 10:45 am, located on the first floor, with prizes such as:

1st Prize, $ 500 voucher, 1 prize

2nd Prize, $ 200 voucher, 1 prize

3rd prize: $ 100 voucher, 1 prize

4th Prize, $ 20 voucher, 7 prizes
2. On 7th – 16th April 2023: Grand Opening Lucky Draw
For every purchase from $10 per receipt will receive 1 lucky draw ticket.
Unlimited lucky draw ticket exchange
Rewards include:
1st Prize Q-Bix 2022 Motorcycle 1 Prize
2nd Prize: Hitachi Refrigerators 2 Prize
3rd Prize Panasonic Washing Machine 2 Prizes
4th Prize Panasonic Microwave Oven 2 Prizes
5th Prize Panasonic Blender 5 Prizes
6th Prize, Hatari Fan 5 Prizes
7TH Prize AEON Gift Voucher 10$ 10 Prize
The Lucky draw will take place on April 17, 2023 at 3pm AEON Mean Chey Store on the first floor​ or via the official Facebook pages AEON Retail Cambodia and AEON Online Cambodia.
3. On 7th – 9th April 2023: Grand Opening Gift
Every purchase from $25 and above will receive a beautiful AEON Mug for the first 100 customers per day only.
Do not miss this great opportunity!
Join us on our official grand opening day and experience the thrill of AEON Mean Chey Store!
It should be remarked that this new store has approximately 16,000 square meters that provides a wide variety of products including daily necessity products (food, grocery, fruit, etc.), apparels, electronical appliances, home appliances, cosmetics, medicine and many more. To be specific, you can find variety of food, grocery, fresh fruit, vegetable, meat, fish, and many types of Japanese food at ground floor where many types of electronic products and apparels from many famous brands are available at first floor. It is designed to be more digitalized compared to the previous stores, AEON Phnom Penh and AEON Sen Sok City by equipping with new modern technology of 2D and 3D digital signage in which customers can easily get access to information and promotion.
Our contact details:
Operation Hours: Monday to Sunday, 9am till 10pm.
Our address: Hun Sen Blvd, Phum Prek Talong 3, Sangkat Chak Angre Krom, Khan Mean Chey, Phnom Penh.
Phone number: +855(0) 23 988 580 / +855(0) 96 454 5764
Email: [email protected]
Find out more about us:
Website: www.aeoncambodia.com
Official Facebook Page: AEON Retail Cambodia
Instagram: aeon_retail_cambodia
Official Telegram Channel: AEON Retail Cambodia
YouTube: AEON Retail Cambodia